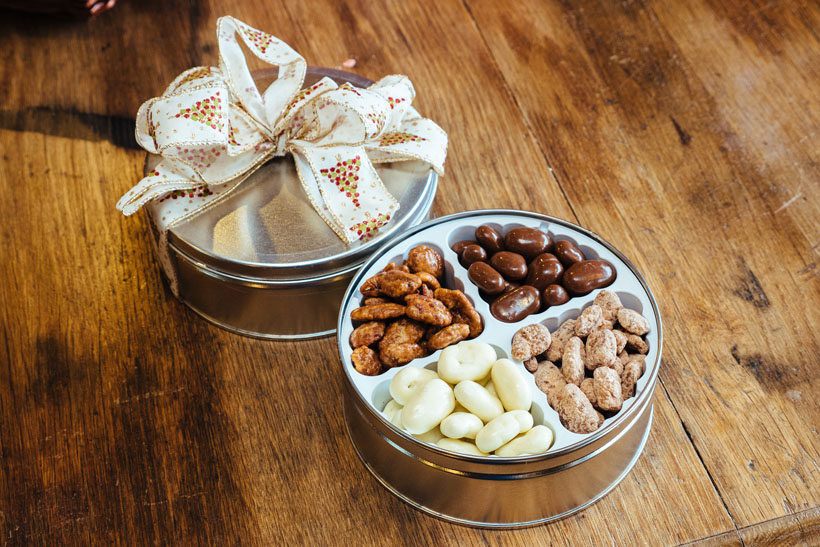 They say variety is the spice of life.
If that's true, then Alamo Pecan & Coffee co. sure has a lot of spice! Though our name suggest we only sell two products, we actually specialize in huge variety of treats and gifts. From candied pecans, pralines, preserves and pies, to treys, tins and anything Texas shaped, we've assembled the best selection of pecan and coffee products in the west.
But, as you know, cream always rises to the top, and so have our best sellers. So, we wanted to show off our Top 10 most popular products right here, and perhaps give you a little gift inspiration for Christmas. Learn why year after year these products out sell the rest! These are the best of the best of 2017!
Alamo Pecan Top 10 Best Sellers
#1 Simply Irresistible Tin
Coming in at number one we have this very popular, assorted tray of treats! It's the perfect gift for the indecisive pecan lover, with seven types of candied pecans including honey toasted, milk chocolate, amaretto, white chocolate, praline, cinnamon, and our scrumptious caramel pecan clusters.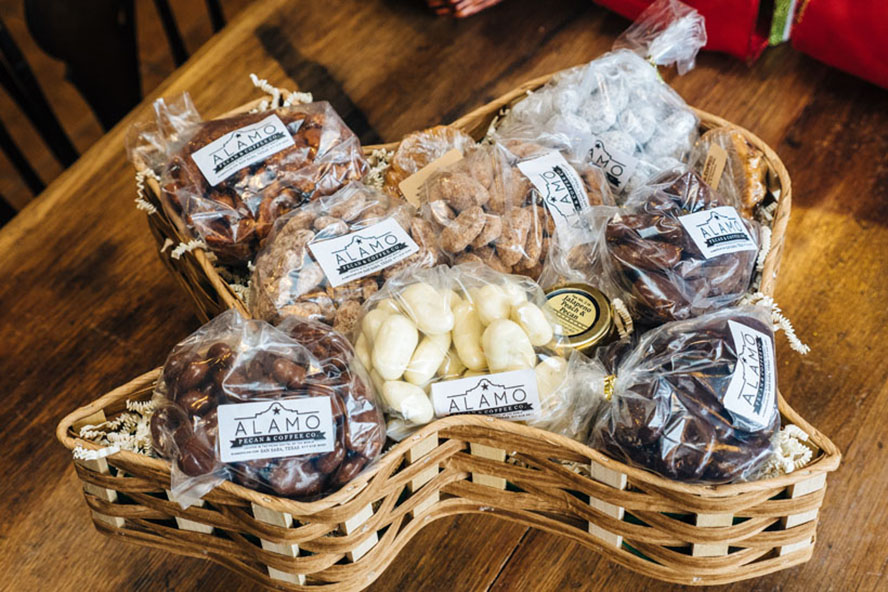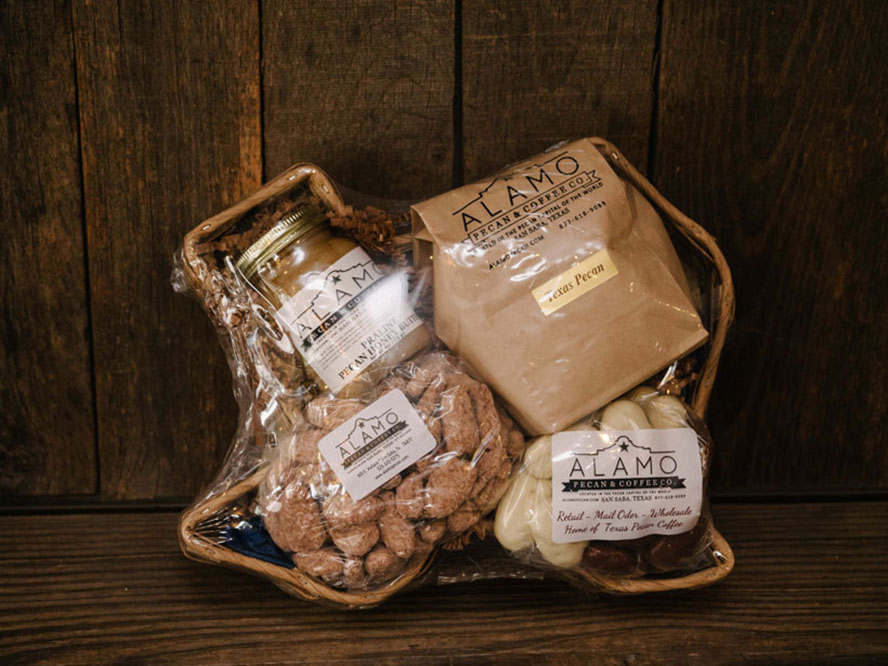 If you need even more Texas in your life, this Large TX gift basket is just what you need! It comes in two varieties. You can get it with four different pecan flavors and a jar of pecan honey butter, OR a bag of coffee beans, three pecan flavors, and a jar of pecan honey butter. It's a true taste of Texas!
#4 Alamo Large Classic Trays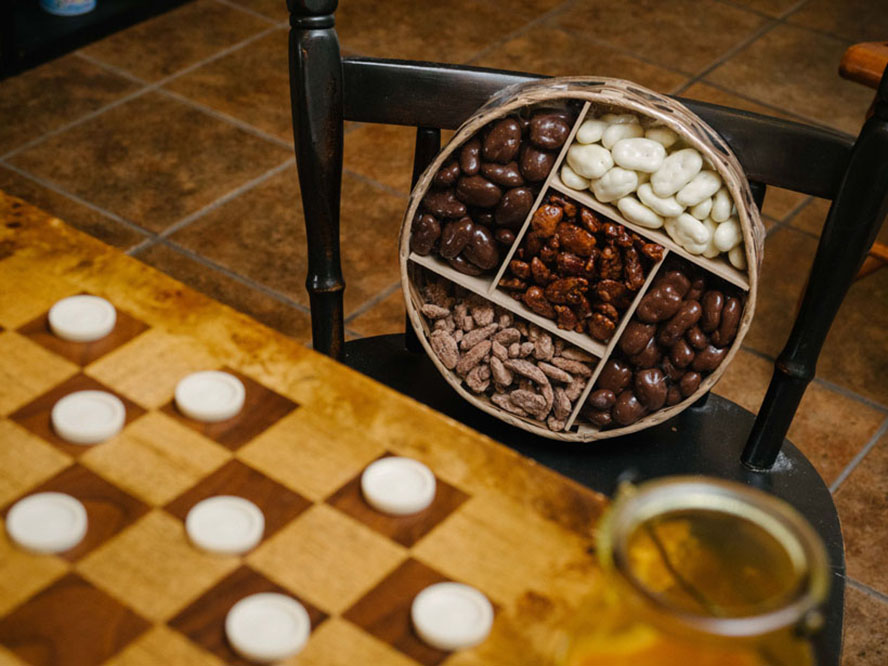 This hand woven gift tray is fully loaded with almost 5 pounds of pecans! Try a variety of flavors: cinnamon, honey toasted, milk chocolate, praline, and white chocolate. It's the perfect present for anyone who enjoys the savory sweetness of candied pecans.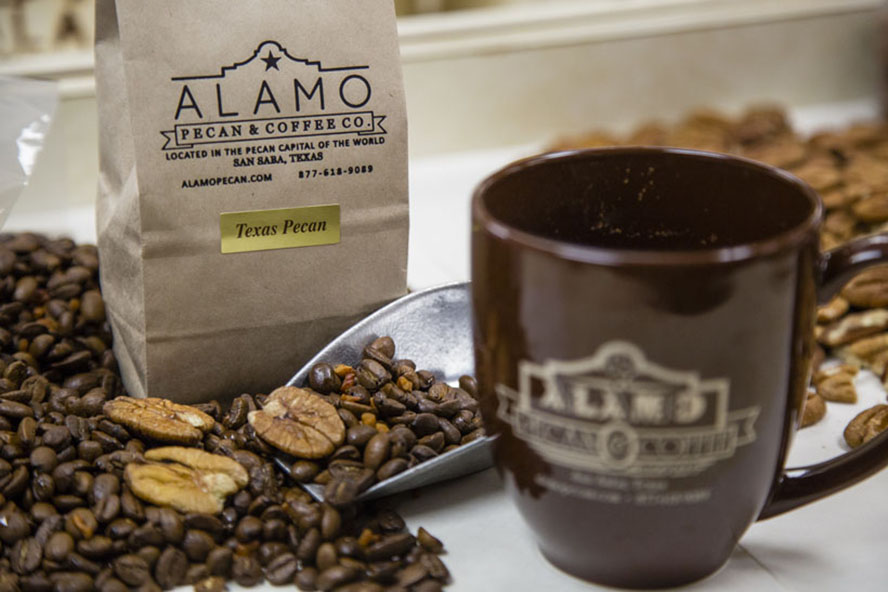 The combination of fine Arabic beans and Texas pecans makes this coffee something to behold! Its rich bold flavor is as big and warm as Texas itself. Bags of coffee by the pound are available online, in whole bean, medium grind and fine grind.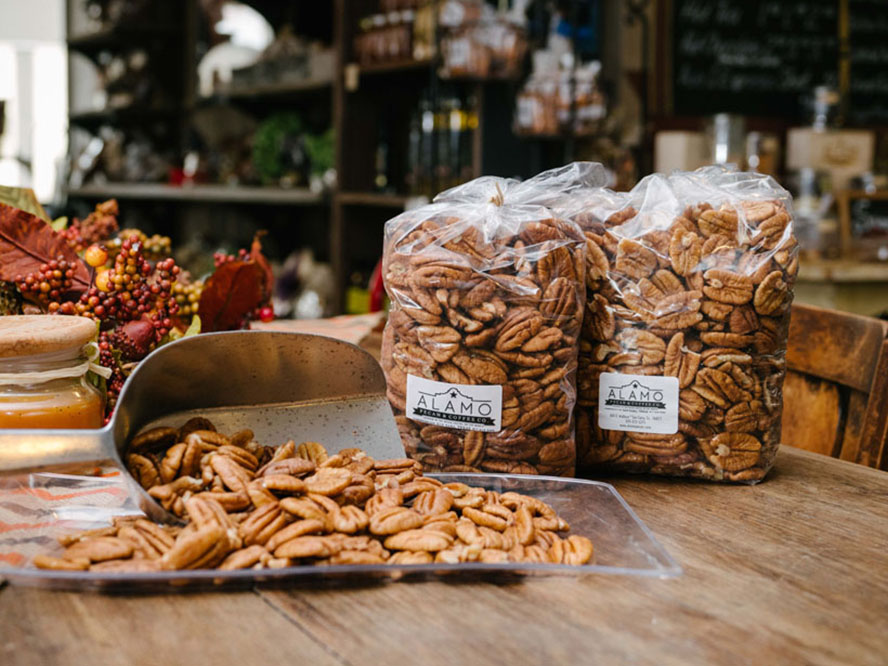 Naturally, our world famous raw pecans made the list. Straight from the Pecan Capital of the World, these fancy pecan halves are perfect for snacking or baking. You can order by the pound right here online, and have the best of nature delivered right to your door!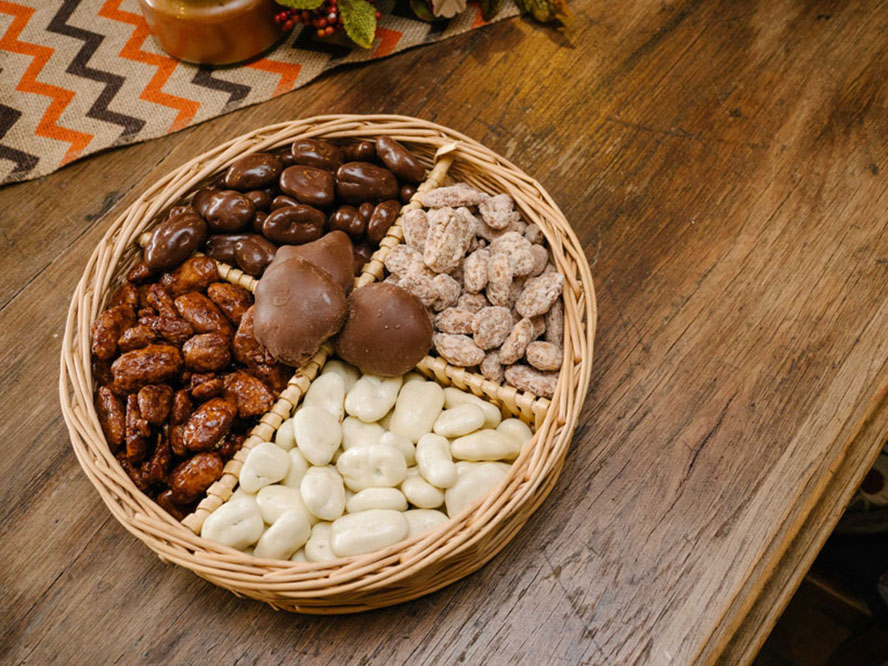 People love this wicker platter, made up of 4 fine flavored pecans, and topped with everybody's favorite caramel pecan clusters. The hand woven tray is reusable and perfect as a party sampler. Get one today and go nuts!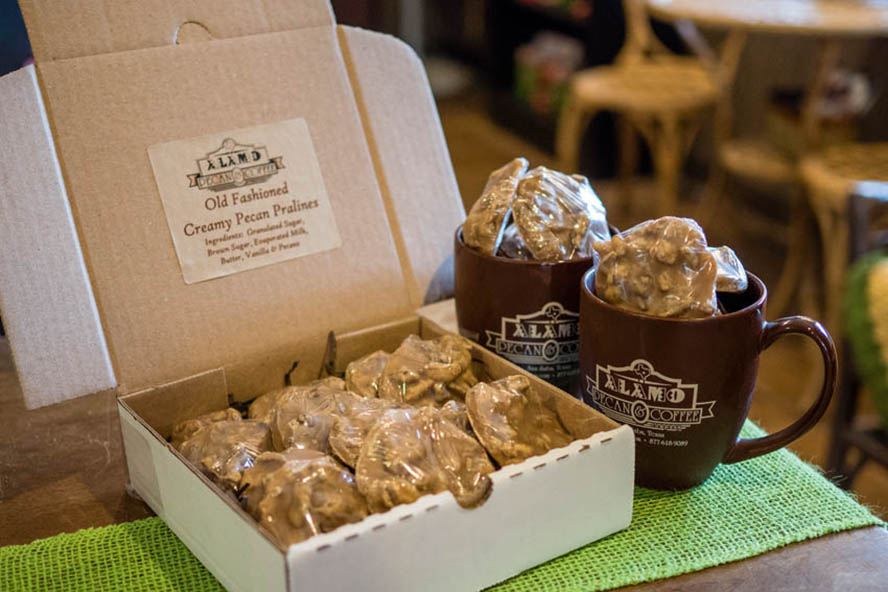 These heavenly treats are always among our best sellers. Made right here in San Saba, these Texas sugar pralines have the taste of homemade goodness. Opening up a box of these will bring a smile to anyone's face. Order some for the holidays and please the whole family!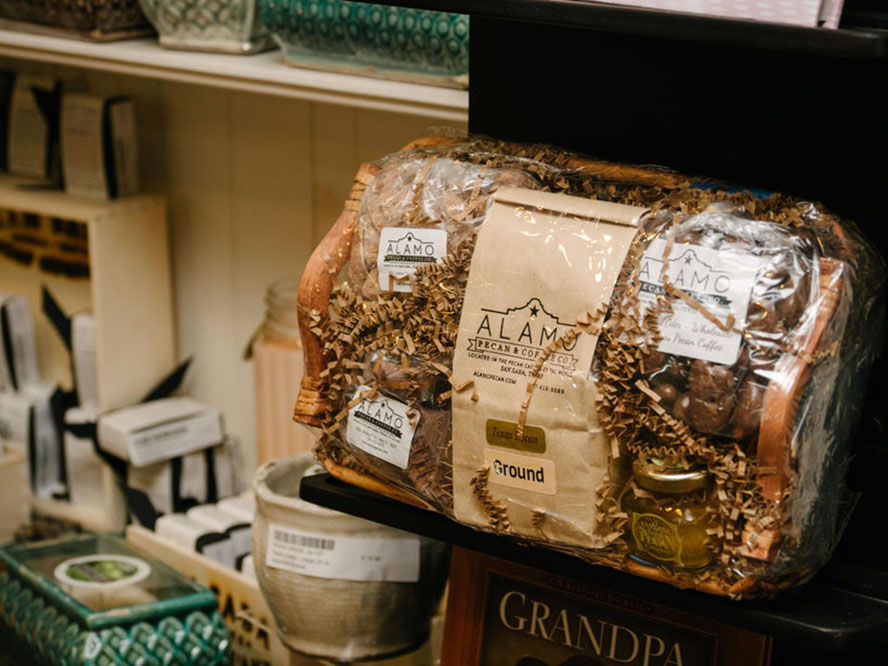 This basket of goodies is the perfect all occasion gift. Beautifly packed in this customized basket comes two bags of flavored pecans, a bag of Texas pecan coffee, pecan honey butter, and more. Get it for someone you love, or just treat yourself!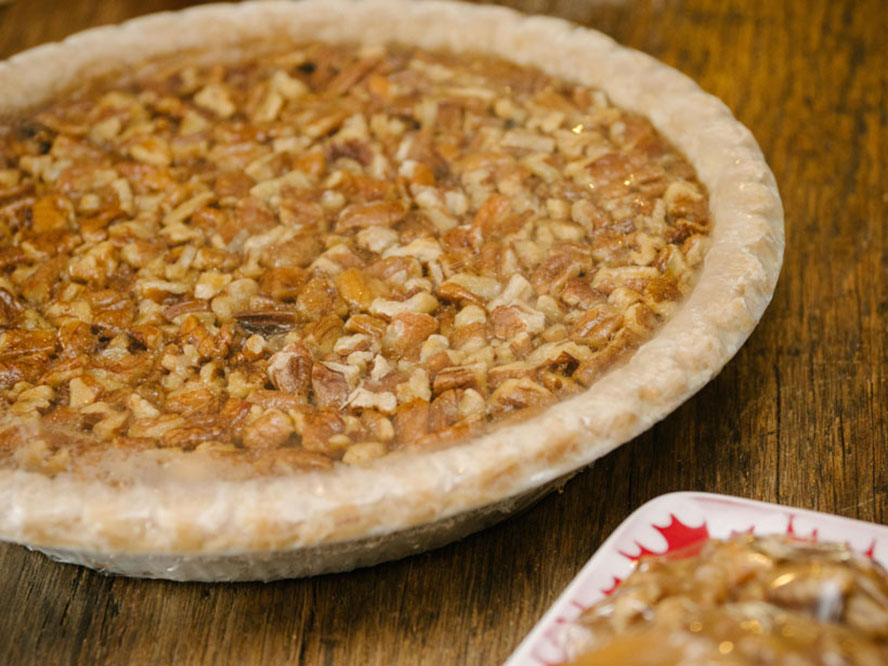 Number ten on our list is a classic. It wouldn't be Christmas without one. This southern pecan pie truly captures the essence of homemade, with local ingredients and baked with love. Bring one home for the holidays, just try not to eat it first!