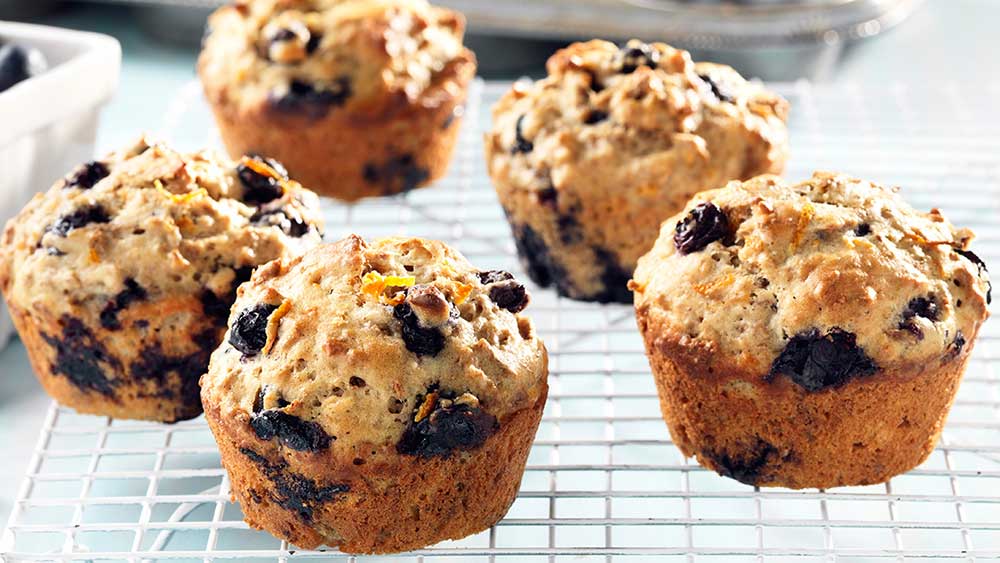 These 4 ingredients make for a perfect 10 muffin. Light healthy easy and did I mention that oatmeal received an heart strong thumbs up in this recipe?!?
Hands On: 10 | Total: 30 | Makes: 12 large servings (1 muffin each) – 24 smaller
Ingredients
PAM® Coconut Oil No-Stick Cooking Spray
1-1/2 cups All Purpose Flour
1 cup quick-cooking rolled oats
1/2 cup firmly packed brown sugar
2 teaspoons baking powder
1 teaspoon baking soda
1/4 teaspoon salt
½ cup Pecan Meal
1-1/2 cups plain nonfat yogurt
4 tablespoons Unsalted-stick butter or margarine, melted
1/4 cup Egg Beaters® Original
1 cup fresh blueberries or frozen, thawed and drained
1 teaspoon grated lemon peel (zest)
Directions
Preheat oven to 400°F. Spray 12-cup regular muffin pan with cooking spray. Blend together flour, oats, brown sugar, baking powder, baking soda, pecans, and salt in large bowl.
Stir together yogurt, Fleischmann's and Egg Beaters in small bowl. Pour yogurt mixture into center of dry ingredients; stir just until blended using rubber spatula. Do not overmix. Fold in blueberries and lemon peel.
Divide batter evenly between prepared muffin cups. Bake 15 minutes or until wooden pick inserted near centers comes out clean. Cool in pan 5 minutes. Remove from muffin cups and cool completely on wire rack. DO NOT OVERCOOK
Wish I could share the mouthwatering and enticing aroma!
Taste buds are doing a happy dance for sure!