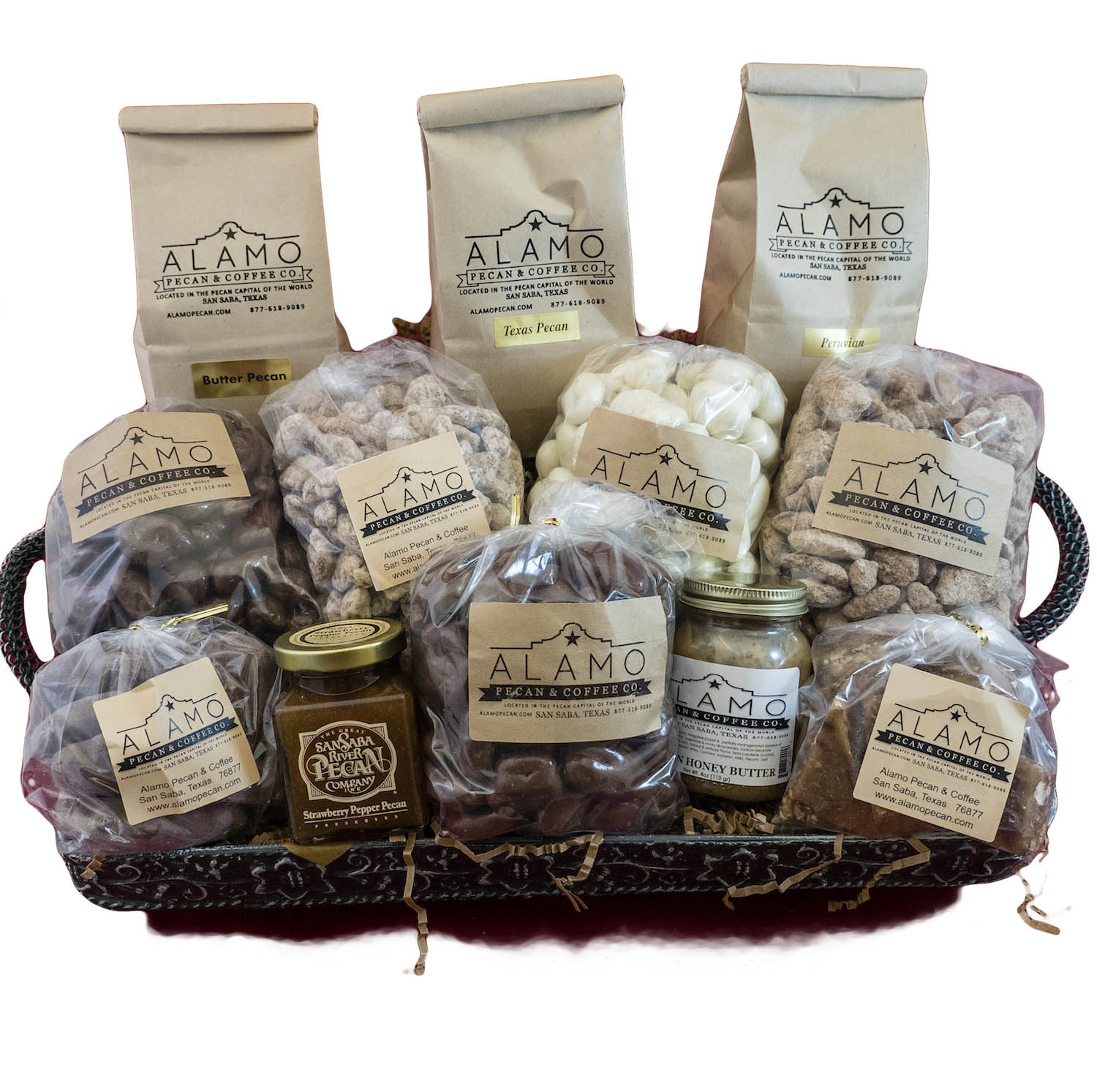 We Care Because you Care
What do you look for in holiday gifts? You want them to be packaged elegantly, you want quality ingredients, you want them to be appealing. You want these things in a gift because you care. You care about the hostess with the mostest that deserves a hostess gift they can enjoy in precious downtime. You want your loved ones to know they are important to you, so you search for the highest quality gifts made with love they can feel. You care that your clients continue to choose you (and want to ensure they continue to do so), so you search for corporate gifts that are sure to impress. Above all you want your holiday gifts to feel personal, to prompt a special and appreciated feeling in the recipient.
Personal touches can get lost in the internet and mail order gifts age reliant upon Amazon/third party distributors packing all manner of gifts. But not at Alamo Pecan & Coffee! We guarantee personal service, personal packing that make your gift say a very personal "Thank You." We understand how important personal touches are in a digital, on-demand world. We genuinely care about you - our customer - and your gift recipients by proxy. That's why we have a special commitment to our customers for every order. We put together our customizable corporate gift baskets - from a large selection of Texas pecan products, gourmet edible delights, delicious Alamo Pecan coffee, and even wine and pecan baskets - with the greatest love and attention to make your holiday gifting simple and memorable.
For each order, whether bulk corporate gift orders or smaller scale orders for loved ones, you can expect the freshest Texas pecan products dressed in beautifully handcrafted bows and specialty wrapping. As we take your orders, we check all the boxes for your gift: is it for a special occasion; how would you like the enclosure card to read; is there a particular request; etc.? Instructions for these personal touches are given to our packing Elves who strive to fulfill your every wish. The packing Elves work purposefully always remembering each order's importance and that every detail matters. From the careful placement of products, the sealing and package process, box selection and packing information – all of these specifications make our mail order gifts more personal. We hope that upon receiving the gift, the recipient will relay their thanks and delight for such a wonderful product.
From your home computer or your office computer, you can trust us with your holiday and mail order gifting. With each order of pecan treats, pecan baskets and sweets, you have our commitment of quality and our 16 years of experience in the mail-order gift business. Our goal is to keep you returning year after year for your corporate gift and mail order gifting needs.
So keep Alamo Pecan & Coffee in mind for all of your holiday gift giving needs.
"Remember the Alamo, the Unforgettable Taste!"