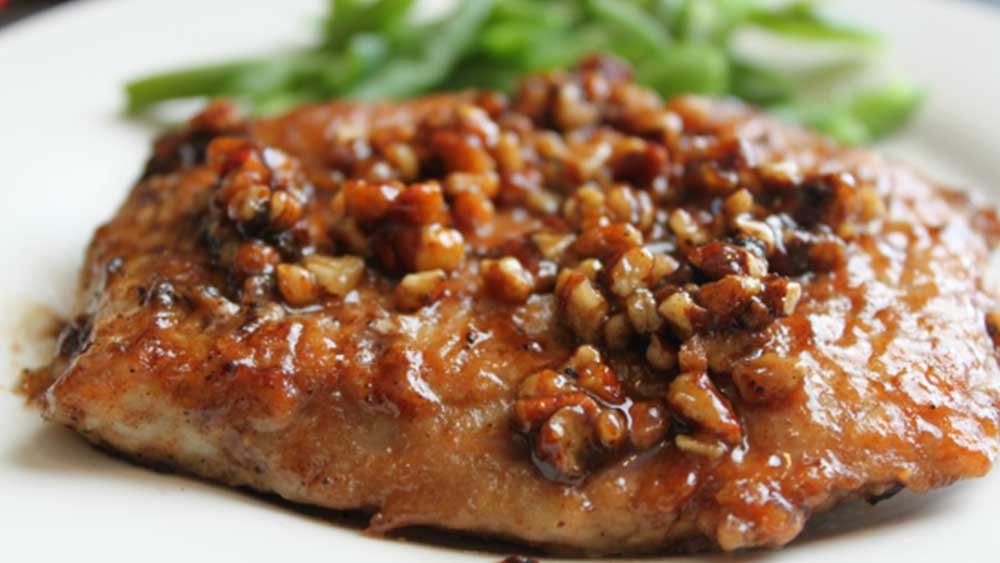 2 pork loin chops, boneless, about 3/4 to 1-inch thick 4 Tbs. corn starch salt, for sprinkling pepper, for sprinkling 1 Tbs. butter 1/4 c. honey 1/4 c. Alamo pecans, roughly chopped
Continue to double this recipe to accommodate your serving number.
Mix:
Stir together honey and pecans in another bowl. (You may need to warm the honey before mixing with pecans so that it is slightly runny.) Directions: Dab the pork chops with a paper towel to slightly dry. Season pork chops well on both sides with salt and pepper. Coat the pork chops in corn starch on both sides. Melt butter in large heavy skillet over medium-high heat. Brown pork chops on one side, then flip to brown on the other side. After the other side is browned, add the honey-pecan mixture to the skillet and stir gently.
Cover and lower the heat to a simmer for 7-8 minutes until the pork is done (about 145 degrees on an instant thermometer). Plate the pork chops and spoon the honey-pecan sauce over the pork. This is an excellent sweet and savory combo dish. It serves well with fresh green beans and buttery mashed potatoes.