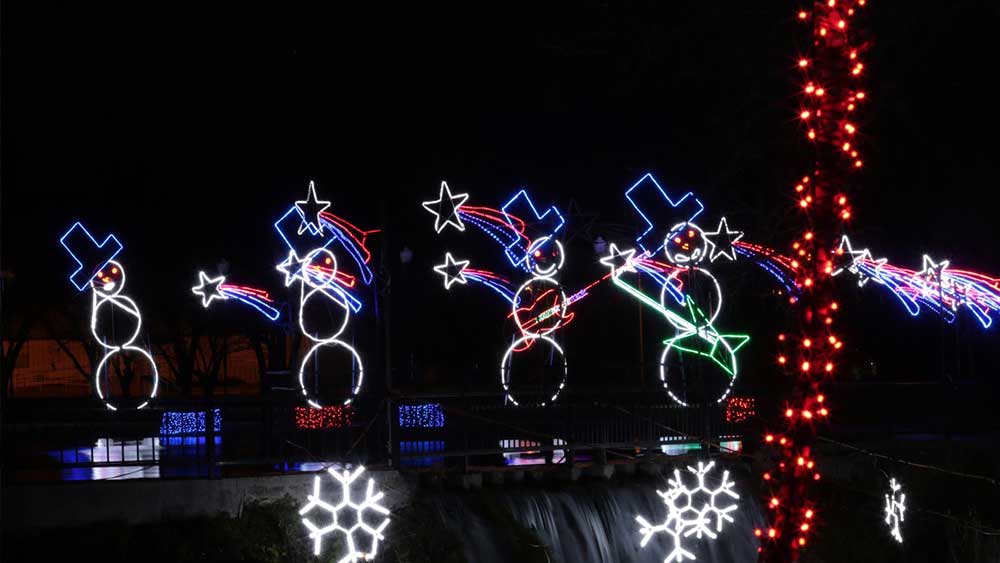 Eat, Drink and Be Merry During the 2016 Holidays
San Saba - located at the top of the Texas Hill Country, might be a small town, but our holiday celebrations are Texas sized. After the last leftover turkey sandwich is eaten, our town of 3,000 starts December off with month-long holiday events. The events are all family-friendly, and free with only one exception - San Saba's annual Christmas wine event the Sip n' Stroll.
The 5th Annual Mill Pond Christmas Extravaganza is bigger and better than ever with the addition of Santa's Workshop. Christmas Park is a 10-acre spread featuring over a million twinkling lights. Viewers opt to walk or drive through the dancing wonderland. A customized song list — a compilation ranging from uptown to country classic to christmas carols — broadcasts over 88.7 FM and features coordinated beats with flashing lights. Digitally animated scenes are cast upon the "animation tree" in addition to twinkling walk and drive-through tunnels, displays range from 20-feet snowman to a guitar playing Santa Claus and the Mill Pond Waterfall is covered in twinkling lights. The Christmas Park is open nightly from November 24, 2016, through January 6, 2017. Entry is free and open to all - and don't forget to swing by Alamo's storefront for coffee, coco and sweet treats to enjoy on your journey through the park!
4th Annual Sip N' Stroll - On December 10th, The San Saba County Chamber of Commerce hosts its fourth annual Sip N' Stroll. The renowned wine tasting event, starts at 2 p.m. and runs through 6:00 p.m. on December 10th. Seven visiting wineries - including San Saba's own Wedding Oak Winery and Old Man Scary Cellars - housed in seven businesses will pour wine and serve snacks. Tickets are $20 and include a wine glass and 10 taste pours. Tickets can be purchased online via Eventbrite or Chamber of Commerce website, or in person at Everett's Furniture Emporium (310 E Commerce) or Wedding Oak Winery. The fun doesn't end with the Sip 'n Stroll. San Saba's annual Christmas Concert will occur right after the Sip N' Stroll on December 10th from 5:30 p.m. until 6:30 p.m. Enjoy the strains of holiday favorites at the beautiful historic courthouse square for this annual event presented by the River City Band, that brings together old and young to delight in the carols of the season. Also on December 10th, the annual Lighted Christmas Parade will be held after the Christmas concert. Sip wine or hot coco as tractors, trailers and all manner of transport transform into a rolling Christmas themed show. 6:30 p.m. - 7:30 p.m.; free and open to all.
Santa's Workshop - Mill Pond Park will be home base for Santa and Mrs. Claus. Kids can decorate cookies and ornaments, get gifts like coloring books and have their pictures taken with Santa. Refreshments like hot cocoa and cookies will be available. Santa's Workshop will be open for play from 7 p.m. to 9 p.m. December 3rd, 10th and 17th.
Remember to grab stocking stuffers and hostess gifts (and yummy treats for Santa) at the Alamo Pecan & Coffee storefront! Choose from gourmet pecans, coffee, pies, sweet treats, fudge, pecan butters and oils, and other locally sourced gifts for the foodies in your life. On behalf of the Alamo family of elves, we wish you a wonderful Holiday season and hope to share in some joyour
yuletide with you!