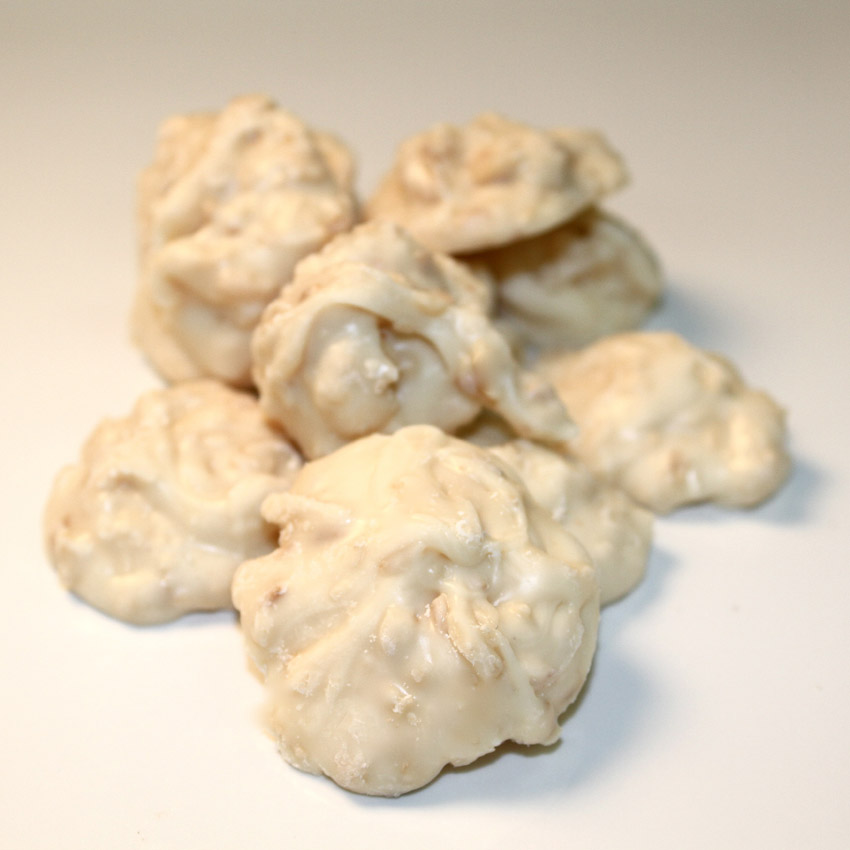 The holidays are swiftly approaching, and with all the decorating, shopping, and traveling there's hardly ever time to do it all. Well, we have a few easy pecan recipes to help get you through the chaos. Not only are these pecan recipes super tasty, they are packed with protein, fiber, heart-healthy fats, and 19 vitamins and minerals! So, you can enjoy the holidays and stay healthy and energized all at once. Enjoy!
Easy Peace Pecans Recipe
Ingredients:
2 Tablespoons Butter - Melted
1 ½ teaspoon Sea Salt or Table Salt
2 Cups Alamo Pecan Halves
½ tsp Vanilla
1 package - 10 to 12 ounces Vanilla or White Chocolate Chips
Directions:
Preheat oven to 325.
In a bowl combine butter and salt, add pecan and toss to coat well.
Spread in a single layer on a baking sheet.
Bake for 10 minutes.
Stir and Bake an additional 15 minutes.
In a heavy skillet, over low heat, melt the chips - stirring often - this is the time for Patience, so that you are not rushing and heating too fast.
When fully melted and you have reached the consistency of cake icing, add ½ tsp vanilla, mix well.
Remove from the heat and add the roasted pecans. Stirring gently, and coating evenly. Be very gentle.
Once all pecans are coated, spread onto wax paper, and you can form individual pieces or small clusters.
Cool completely, store in airtight container - and ENJOY!!
Roasted Pecans Recipe - Alamo Style
Image Source: webbcandyshop.com
Ingredients:
2 Tablespoons melted butter
2 teaspoons sea salt
1 Worcestershire Sauce
2 Cups Alamo Pecan Halves
Directions:
Preheat oven to 300 degrees.
In a bowl combine butter, salt, and Worcestershire.
Add pecans. Toss to coat well.
Spread evenly in a single layer on baking sheet.
Bake for 10 minutes.
Stir and bake an additional 10 minutes until golden brown.
You may add a little zest of flavor by adding cayenne pepper, pepper flakes, or your own style of Heat!
Once cool, pour in a bowl or container and save a bag for you and share one with a friend!
Anytime Pecans Muffins Recipe
Image Source: marthastewart.com
Ingredients:
1 ½ cups All Purpose Flour
½ Cup Sugar
2 teaspoons baking powder
2 Tablespoons Brown Sugar
½ teaspoon salt
1 egg beaten
3/4 cup buttermilk
1 teaspoon Vanilla
¼ cup Pecan Oil or your Choice Oil
1 cup Finely Chopped Alamo Pecan Pieces
Directions:
Preheat oven to 400 degrees.
In a mixing bowl, combine the flour, sugars, and baking powder and salt.
Make a well in the center and add egg, milk, vanilla and oil.
Stir batter and start folding in pecans. Batter will be lumpy.
Fill greased lined paper cups 2/3 full.
At this time you may sprinkle additional sugar if desired.
Bake 15 - 20 minutes. Checking often or until lightly browned.
Serve warm or cold and top with your favorite jam or preserve.
Start making Holiday Pecan Treats right with the best pecans straight from the Pecan Capital of the World. Get your raw pecans here!
BUTTON: Order Now
http://alamopecan.com/raw-pecans
Still too busy to prepare your own holiday snacks from scratch? Don't worry! We have all the tasty Texas treats & eats your heart desires right here online!
BUTTON: Order Now
http://alamopecan.com/pie-candy