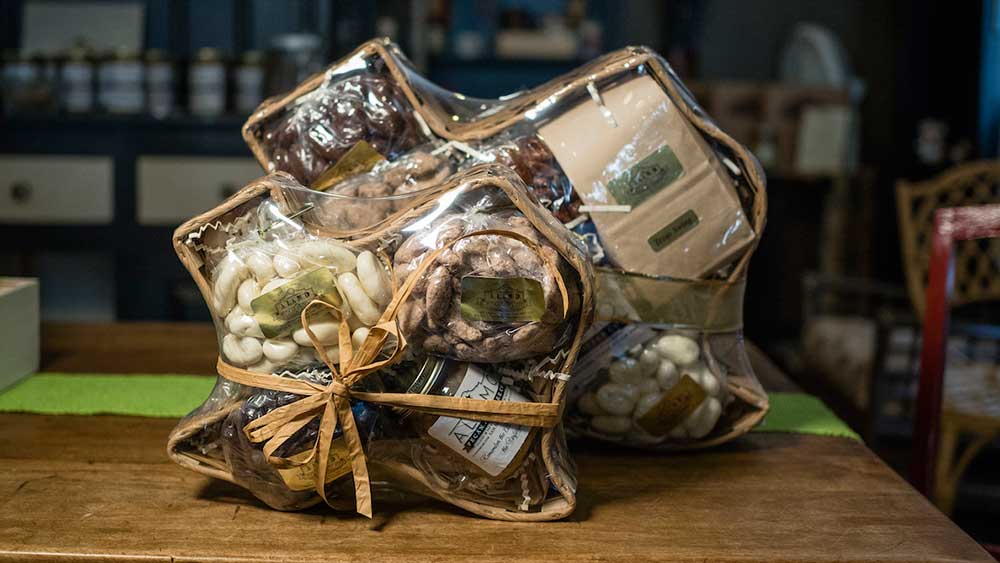 Alamo Can Make You a Leader in Corporate Gift Giving
Get the Scoop!
We realize that every year during the holidays, your business is faced with the task of showing appreciation. Corporate gifts are designed to make a positive impression and promote your business in a special way - it's an extension of your marketing plan. Rightfully so. Nothing melts a customer's heart more than receiving a beautiful and practical gift of appreciation; sweet treats for the long-term relationships or new prospects.
This is how Alamo Pecan and Coffee can help with the seemingly daunting task of corporate gifting. We cheerfully answer your call for creative, classic and delicious gifts! We work through the process step by step with you to curate the ideal gift packages for your needs. Don't have time to go step-by-step? You can trust us with selecting and delivering exciting gifts from deep in the heart of Texas, that are rich with tradition and flavor! When you want to show how much you truly value your staff, customers, or business partners – you can trust Alamo Pecan & Coffee to make a lasting impression! Here are some of our corporate best seller items.
Simply Irresistible Tin – Elegant and suited for all audiences! Filled with 7 yummy flavors of our fresh, gourmet pecans. This tin is perfect for sharing in the office or added to your holiday dessert table to be enjoyed by family and friends.
Alamo Classic – This beautiful grapevine divided basket contains 5 of Alamo's finest flavored pecans. Certain to make an impressive and tasty statement, not to mention the reusable basket will come in handy for years to come. Take a handful and pass it around!!
Texas Basket – Deep from the Heart and full of pride! This basket full of big Texas flavor includes 4 assorted flavors of pecans, Honey Butter, and Texas Pecan Coffee. Your choice – your way. There's no better way to say, "Thank you from the Lone Star State."
Executive Basket – Superior, Spectacular, Scrumptious – this basket makes the statement of "High Position and suited for that Extraordinary Someone".  Shower them with thoughtfulness by sending this premium collection of Flavored Pecans, Pecan Candies, Pecan Honey Butter, Pecan Coffees, Pecan Preserve and Old Fashioned Pralines!  Goodness Gracious its Huge in size, flavor, and assortment.  You know it's the Texas Sized way to show your deserving clients exactly how much you appreciate them.
When You Want to Wish them Continued Success, Remember the Alamo Way is the Best!!